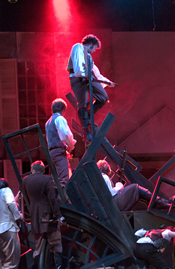 At New England Stageworks, we know getting the right lighting equipment specially selected for each show is extremely important. We work with you to determine exactly what you need to achieve high quality production values without breaking the budget. For shows with a larger budget, our automated lighting, led fixtures, and special effects equipment can make your production and its performers look cutting edge.
Our top of the line stock includes:
ETC
Leprecon
Altman
Martin
Rosco
Color Kinetics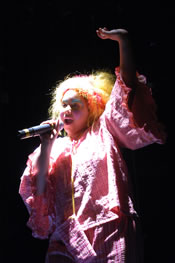 New England Stageworks we know that audio design and reinforcement is not just about VOLUME! If you want dance club volume with pounding bass and ear piercing sound levels, we can do that, but we specialize in selecting high quality equipment that helps you to hear the finer nuances and individual notes of each instrument. Our professionals try to understand the music no matter what style it is, and really help the audiences to feel the music and have it fill the hall fluidly. Our equipment is chosen for its clarity, dependability, and its simplicity so whether you have a simple microphone at a podium, or an entire rock ensemble we can make you sound better and feel comfortable that it will work perfectly every time. We will be happy to help you select a system that suits your venue whether it be for 100 people or 1000, without breaking the bank.
Our high quality equipment includes: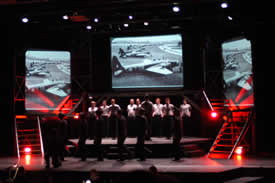 One of the newest fields in theatre production is video projection. At New England Stageworks, we have been exploring different forms of projection for many years, and have all the equipment you may need plus plenty of suggestions on how to make your show that much more spectacular. Whether you want to project simple slides or gobos as part of your scenery, have integrated movies showing throughout your production, or have live camera projected as IMAG so the audience can see close up all the details, we have what you need. Not only do we have the equipment, but we can also help you create the media, design slide images, or just support you as you create your own art. Video projection adds an extra layer to your show that clarifies what the speaker is saying, enhances what the audience sees, and simply adds to the total experience of the show.
Our state of the art inventory includes:
Canon HD
Eiki Projectors
Da-Lite Screens
Panasonic Switchers
Vizio Monitors
Blu-ray, DVD, HDV